Fuel storage tanks 15-20 years old or older, are at significant risk of leakage.
If you have an older tank on your property, it's highly recommended you abandon it and install a new oil tank
We offer foam and sand oil tank abandonments. Sand oil tank abandonment in Nassau and Suffolk Counties New York are all hand dug (no machines destroying your property), completely cleaned of all oil tank sludge or residue, and inspected before being filled with clean sand. All waste and sludge removed and disposed of LEGALLY! Above ground oil tanks are pumped dry, cut up, and completely cleaned of all oil residue before being removed from the premisis.
Oil tank sludge is a common problem with all oil tanks, but quite a bit more prevalent in steel tanks. Sludge is a combination of heavy mineral deposits in the fuel oil, and also the erosion of the steel tank from constant condensation. If you have a constant water problem with your fuel tank it may be the result of a low, or below grade oil fill. Water in the oil tank is a significant danger to the integrity of ALL oil tanks. Besides the constant corrosion on the outside of the tanks, water rapidly rots out the tanks from the inside.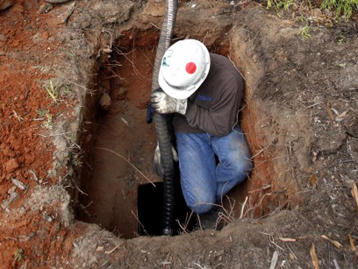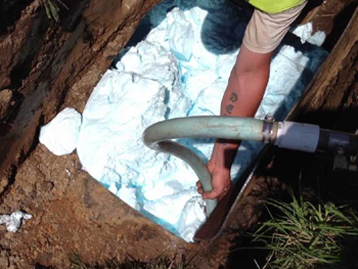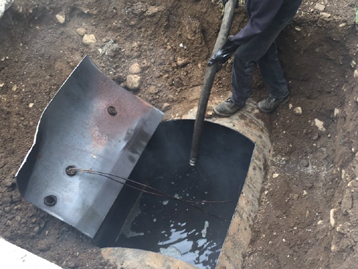 Water also destroys the fuel delivery components of your oil burner. Water in the fuel lines to the oil burner can cause puffbacks due to the improper atomization of oil delivered through the oil burner nozzle. Water also rotts out the oil pumps, steel filter housings, and drawer assemblys that deliver fuel through the blast tube. Call today for a free evaluation of your tank. Ask us if its possible to remove Oil Tank Sludge and Water from your systems today in Nassau and Suffolk Counties of Long Island New York.
Fuel storage tanks which are 15-20 years old or older, are at significant risk of leakage. If your property has a steel buried oil tank of this age, the leak risk is high and you should investigate further. If an older steel buried oil tank has not already leaked, you should plan to replace it promptly, either with a newer leak-resistant or multi-walled buried oil tank or with an above ground oil tank placed in a suitable location.
Our services: oil tank abandoning, oil tank decommissioning, inground oil tank abandonment, buried tank decommissioning